Endovenous ablation consists of a temporary placement of a very thin, flexible catheter (tube) inside the diseased saphenous vein (most commonly the great saphenous vein or GSV) to deliver heat. The heat damages the veins wall and subsequently the vein shrinks and seals closed. This prevents further venous reflux and reduces venous pressure in the leg. Blood that once flowed in the sealed vein is naturally redirected to other veins, and the sealed vein is reabsorbed into the body.
Endovenous laser ablation and Venefit ™ radiofrequency ablation are variations of endovenous therapy. The first uses laser energy while the latter uses radiofrequency energy to heat up the catheter and injure the saphenous vein wall. Both are quick, easy and minimally invasive treatments for saphenous venous reflux. They are performed in the office with local anesthesia.
This new method has replaced traditional vein ligation or stripping surgery for the vast majority of patients with severe varicose veins in the leg.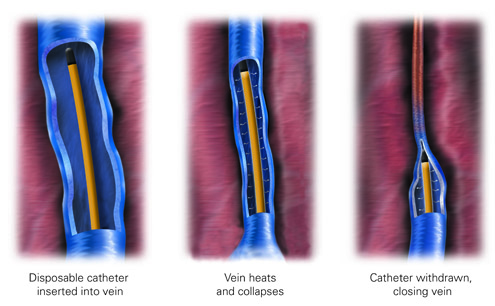 Venefit™ radiofrequency ablation: The vein is destroyed using radiofrequency energy to precisely deliver heat to the varicose vein walls, causing them to collapse and seal.
Endovenous laser: A small optic fiber is inserted through a small tube into the saphenous vein under ultrasound guidance. As the laser is activated, it heats and closes the vein.
Mechano-chemical ablation: A small, flexible wire is inserted with ultrasound guidance into the diseased saphenous vein. The wire is then slowly pulled back while it is rotating and a sclerosant (liquid solution that injures the vein) is injected. This causes the vein to collapse and close.
What to Expect
An endovenous treatment typically takes about 30 minutes. If additional treatments are required the procedure can take up to 1 hour. After the procedure you will be wrapped for 2 days and wear a support stocking for two weeks. There will be some bruising, which is normal, and will completely resolve in four to six weeks. You may also experience some mild discomfort, tingling and/or tightness in the treated leg, which typically resolves in a few weeks.
Why the Stony Brook Center for Vein Care
Our staff and vascular surgeons manage a large population of patients with venous disease, and we manage a variety of both common and complex cases. The unique needs of patients with varicose veins are recognized by everyone at our practice, and we strive for exceeding the expectations of our patients.
We use the latest technology to treat varicose veins with endovenous ablation, and we also are leaders in using minimally invasive treatments, such as the non-surgical (drug) therapy called Varithena, which we are the first on Long Island to offer.
Dr. Antonios Gasparis, director of the Center for Vein Care, in May 2017 published a scientific study about Varithena used in conjunction with ablation. He and his colleagues concluded that "treatment of varicose veins with Varithena at the same time as endovenous ablation significantly improved physician-assessed appearance at week 8, increased the proportion of patients with a clinically meaningful change in appearance, and reduced need for additional treatment."