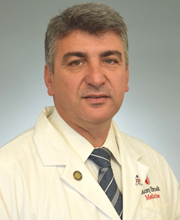 Apostolos K. Tassiopoulos, MD, Professor of Surgery, is board certified in both vascular surgery and general surgery, Chief of the Division of Vascular Surgery, Program Director of the Vascular Surgery Residency and the Surgical Skills Simulation Center in the Stony Brook School of Medicine and Co-Director of the Aortic Center.
Dr. Tassiopoulos has expertise in open and minimally invasive endovascular surgery for the management of aortic aneurysms, lower extremity vascular disease (PAD), treatment of venous disease (including minimally invasive percutaneous closure for varicose veins), renal and mesenteric artery stenosis, surgery for stroke prevention (carotid stenting and endarterectomy), dialysis access and limb salvaging procedures.
Dr. Tassiopoulos received his MD from Aristotle University Medical School in Thessaloniki, Greece, in 1989. He subsequently served for two years as a general medical officer in the Hellenic Air Force of Greece. In 1992, he moved to Houston, TX, to pursue a one-year postdoctoral fellowship in cardiovascular surgery at Baylor College of Medicine with Drs. E. Stanley Crawford and Joseph Coselli. He then completed his residency training in general surgery at SUNY Upstate Medical University in 1999, and went on to complete his training in vascular surgery at Loyola University.
An active scholar as well as a dedicated clinician, Dr. Tassiopoulos is the author of numerous peer-reviewed articles and book chapters. While training in general surgery, he devoted a year to basic science research related to the development of pulmonary complications following aortic surgery. During his vascular fellowship, his basic science research focused on developing strategies to prevent neo-intimal hyperplasia after various open and percutaneous vascular interventions. At the same time he worked on a number of clinical research projects in the diagnosis and pathogenesis of chronic venous insufficiency. At Stony Brook, he continues to develop his clinical research activity in venous disease. Dr. Tassiopoulos is part of Stony Brook Medicine's multidisciplinary team of that provides the latest and innovative treatments in vascular disease serving Long Island.