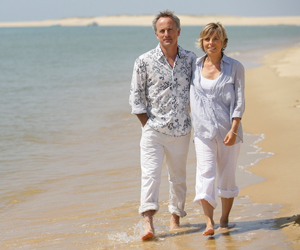 Restoring legs to their healthy good looks by leaders in vein care at Stony Brook Medicine
Welcome to the Center for Vein Care, where we provide comprehensive treatment for all aspects of venous (vein) disease. We believe in personalized care, delivered with compassion and courtesy. Restoring legs to their healthy, pain free good looks is what we do with pride.
In less time that it takes to watch a movie, you can be free from bulging, painful varicose veins and be back to enjoying life.
Specialists who lead the field – and inspire confidence
Our vein specialists are board certified vascular surgeons who use innovative, minimally invasive therapies to treat varicose veins. They are leaders in clinical practice, education and research. Come to the place where advanced technology is first utilized and physicians from around the world come to learn.
The Center for Vein Care is only one of a few Intersocietal Accreditation Commission (IAC) accredited vein centers in the country and was the first on Long Island.
Don't trust your legs to just anyone - your varicose veins should be treated by world renowned experts in vein therapy.

The Center for Vein Care treats:
Call for a consultation
For an appointment with one of our board-certified vascular surgeons or a FREE varicose vein screening
call: (631) 444-VEIN