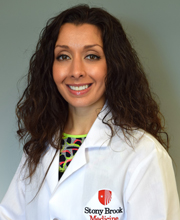 Angela A. Kokkosis, MD, Assistant Professor of Surgery, completed her undergraduate and medical education through a combined B.S.-M.D. program at Stony Brook University. During her time at Stony Brook, she engaged in both basic science and clinical research and was the recipient of several research-related scholarships.
Upon medical school graduation, she completed her integrated vascular surgery education at the Mount Sinai Hospital in New York, New York. Her training focused on all aspects of arterial and venous disease.
Throughout her training, Dr. Kokkosis has been highly involved with medical student and resident education at the national level with the Society for Vascular Surgery (SVS). Dr. Kokkosis has served as the chair of the Medical Student Section of the SVS, and most recently as the chair of the Vascular Trainee Section of the SVS.
Additionally Dr. Kokkosis has presented her clinical research in venous disease and dialysis at national meetings and published her work in peer-reviewed journals. Currently she looks to pursue research on women with peripheral arterial disease (PAD). Dr. Kokkosis is fluent in Spanish and Greek.
Dr. Kokkosis clinical interests are all areas of arterial and venous surgery including all facets of arterial and complex venous disease, including aortic aneurysms, carotid disease, peripheral arterial disease (PAD), and treatment of acute DVT with thrombolysis, pelvic congestion syndrome, and varicose veins.