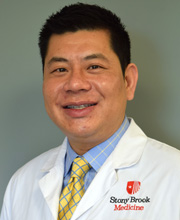 Shang Loh, MD, Assistant Professor of Surgery, is board certified in vascular surgery and general surgery.
Dr. Loh received his MD degree with honors from Texas A&M College of Medicine in 2002. During his undergraduate medical training, he spent a year at Stanford University doing research as a Sarnoff Cardiovascular Research Fellow. He completed his training in general surgery at NYU Langone Medical Center during which he spent another two years performing research at Stanford University. Dr. Loh stayed at NYU to complete a two-year fellowship program in vascular surgery and endovascular surgery.
Dr. Loh's practice focuses on all aspects of vascular disease including open and endovascular management of arterial and venous disease. Specifically for venous disease, he actively sees patients for minimally invasive treatment of varicose veins and the treatment of complex deep venous conditions such as iliac vein compression.
Dr. Loh's research interests focus on the devleopment and use of new and emerging technologies for the mimially invasive treatemnt of vascular disease.